WHAT IS DEEP WALKING?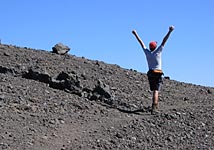 It is a selection of walks for special people, developed from an idea of Luca Gianotti. The walks have the aim of inner search, simplicity and consumer awareness.
Their main features are:
Travel on foot (from A to B rather than daily excursions from a base)
Early rising with physical exercises such as Qi Gong before breakfast; early to bed
Readings along the walk
Listening, empathy, sharing
Awareness, meditation, inner growth
Conviviality is recognized as important but silence is sometimes preferred, for example during meals or walking
We will try to work together on our consciousness about food and drinks. The eyes are often bigger than the stomach. Vegetarian meals, sometimes vegan. There won't we meat, only sometimes fish. We will also try to limit alcohol, and at least once we will experiment abstinence (such as no wine for a day)
Respect for life in all its forms, attention to ecological details, responsible tourism, consumption that harms the Earth as little as possible, reflection on our impact as travellers
If still in doubt ... FAQ (frequently asked questions)
I'm not vegetarian, why should I walk with you?
Why not? Try it for a week - healthy eating cannot harm you. Or can't you manage a week without meat?
With all this virtue I fear that your walks would not be much fun ...
Not at all. The aim is joy, joyful walking, joyful togetherness. Try it!
This idea of silence, eating in silence, walking in silence. It sounds heavy.
Silence is a proposal but there are plenty of occasions to talk. There is much more talking than silence.
Are exercises before breakfast compulsory?
Nothing is compulsory; everything is proposed with a free spirit. You choose. There is no disapproval for missing a meditation, a walk or anything else.
Walking is an ancient, natural way of traveling, that of wanderers, pilgrims; walking is degrowth, a search for one's wild side and awareness.
Our walks are quality journeys; our guides are professionals; our prices are right and without hidden extras; our journeys aim at responsible travel, minimum impact on the environment and people, attention for the places visited and for our members.
Our destinations are mostly Mediterranean. Participants include first-timers and expert trekkers. . The walks have different levels of difficulty and comfort (organic farm stay, hotel, refuge, free camping and sleeping under the stars).

The project Deep Walking is an idea of Luca Gianotti.