To join
... you have to be a member of Compagnia dei Cammini for the current year.
The membership fee € 20 /year includes all information and material on the different walks.
Prices
The prices include the items listed in brackets. Under "other costs" we try to estimate the cost of eating and accommodation and transport. Estimates are fairly accurate.
Enrolment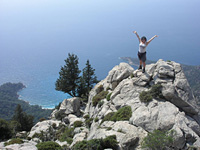 Phone or e-mail the secretary and leave your details. Confirm by payment of the deposit and if necessary the enrolment fee for the current year.
Excursions may be cancelled if there are fewer than 6 participants.